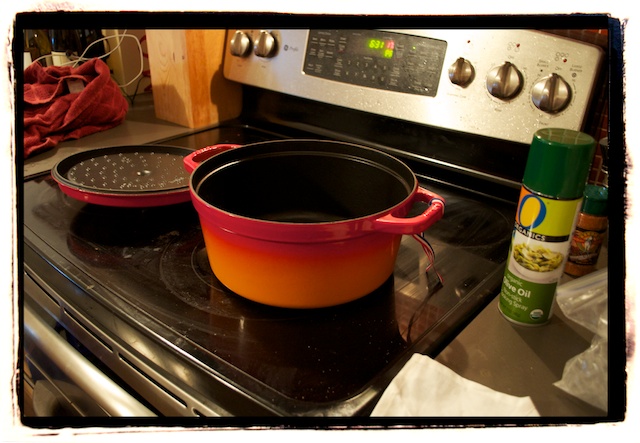 Over the past six months, I have really started getting into cooking and getting to know my kitchen. A few weeks ago, I discovered my boyfriend's practically brand new, never-used Staub Dutch oven gathering dust in the recesses of a kitchen shelf, and I knew I had to break it in. I specifically thought that the Dutch oven would be a great tool for slow cooking meals. I loved the idea of throwing a bunch of ingredients into a pot, sitting back for an hour or two, and getting a ready-to-go meal with minimal effort. My first attempt was cooking a delicious beef stew for dinner with friends that was a huge hit at the dinner table and served as delicious leftovers twice over. After such a success, I was hungry for more recipes to try out.
Then, my boyfriend introduced me to a book about simple, healthy cooking with a Dutch oven. Glorious One-Pot Meals, by Elizabeth Yarnell, seemed like the simplest way to get my hands dirty with Dutch oven cooking. Elizabeth's technique involves layering ingredients one on top of the other in a single pot (grains first, then meats, then starchy vegetables, then leafy greens), then cooking them for 45 minutes at 450 degrees Fahrenheit. In less than an hour, you have a complete meal with grains, protein and vegetables that is ready to eat.
I decided to start out with the Hearty Polenta and Sausage recipe, which sounded delicious and easy to make. I used spiced turkey sausage to give the meal a little kick, since I heard that one complaint about these recipes is that they can be a bit bland. I used chicken broth, and kosher salt instead of sea salt as recommended by the recipe.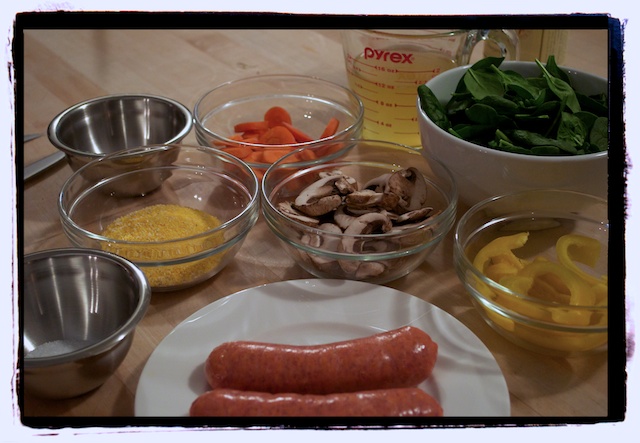 I am still getting my bearings on how speedily I can do my prep work, so I got all the ingredients prepped and laid out before I even started preheating the oven. When I used the Dutch oven to cook my stew, I started the preheating process as soon as I started prep work, and I found myself rushing to get it all done when the oven preheated more quickly than I anticipated. Once all the ingredients were laid out, I started preheating the oven and began layering them in the dutch oven as instructed. I was a little overeager in getting all the ingredients in the pot, so the only photo I took of the process shows the top layer of spinach.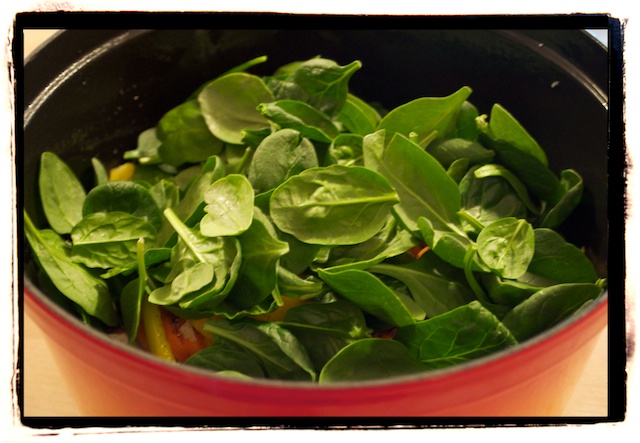 The most annoying part of the whole cooking process was making sure the oven temperature stayed at 450 degrees Fahrenheit. In the book, she describes that even a ten degree difference in either direction can greatly affect the quality of the meal. I used an oven temperature gauge to make sure the temperature stayed on track. Unfortunately, the temperature was varied and really kept me on my toes. I kept having to go up or down in temperature on my oven to keep it at 450. I guess my oven is not as accurate as I thought. At least I know now.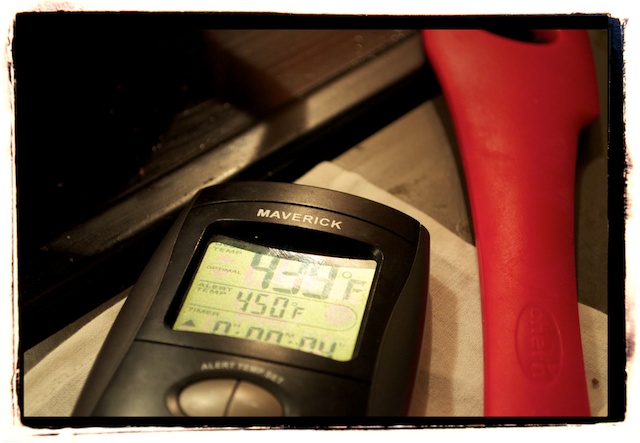 Despite the issues with the oven, the meal turned out to be spectacular. Far better than I had even hoped.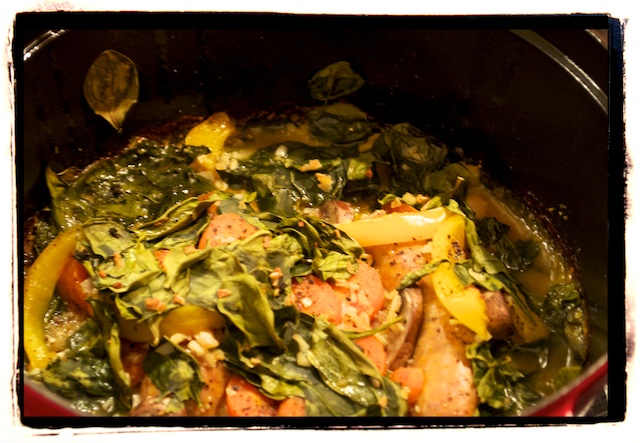 I sprinkled some grated Parmesan on top and we were ready to eat. The spice of the sausage was infused throughout the entire dish, adding the kick I'd wanted to create. If not for that spice the dish may have been a little on the bland side, but it was well-seasoned thanks to the sausage. The vegetables were perfectly cooked, not too crisp, not too soft. The texture of the polenta was a little chunky, but I actually liked it that way and it didn't detract from its tastiness. Of course, the biggest metric of success is how the boyfriend liked it, since he is a pretty picky eater and no friend to vegetables. He gave it his approval and ate every last bite. Huzzah! I have finally figured out a way to trick him into eating veggies.
The meal was incredibly easy to make and tasted delicious. So far so good! I'm looking forward to trying out other recipes from the cookbook, and for now I can safely say that the Hearty Polenta and Sausage is a great recipe.