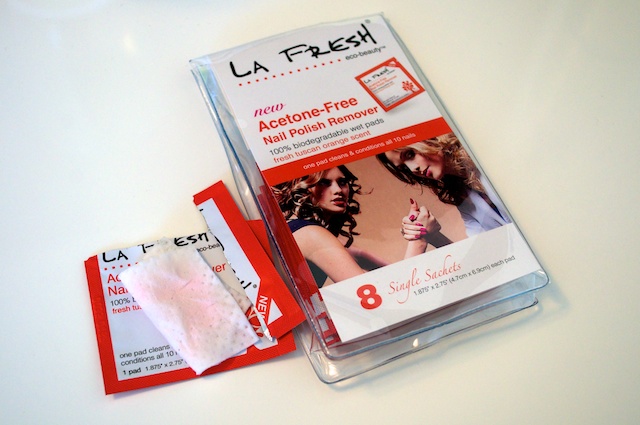 Being a product junkie, I've decided I should start blogging all the products I'm trying out so that you, the masses, can glean insight from my experience.
These nail polish wipes are, in a word, AMAZING. SO AMAZING. I can't stop raving about how amazing they are. I ordered an 8-pack a few months ago, and I'm about to order a second set of their 18-pack. So many things to love about this product:
Eco-friendly (biodegradable).
Smells heavenly, like a ripe orange and not at all like nail polish remover, which I'm sure my boyfriend appreciates.
They actually get nail polish OFF. Completely. Your nails will look so clean and virginal people will wonder if they've ever been polished before. This is true even of the toughest nail colors, like red and dark purple or green.
The convenience factor cannot be overstated. I find myself doing my nails on my own so much more often. It's so easy to just whip out one of these babies, clean off my nails and paint on another color.
I also keep one in my purse just in case I need to wipe away a chipped nail job. At an interview for my first job in San Francisco, I was coming in on BART and realized to my horror that my nail polish was chipping horribly and looked completely unprofessional. I kid you not, I chipped off all of the nail polish BY HAND so that not a trace remained before I walked into the interview. If I had had a La Fresh remover pad with me at the time, this would have been a problem easily solved.